I'm sure you'll agree with me when I say:
You can do almost anything to protect your horse from flies.
When the flies irritate your horse, it feels bad, right?
So, there is no doubt about that, you want to purchase the best horse fly spray available on the market to give a full proof protection from these pests.
But, you've to be quick…
The horse fly can spread a number of diseases and can be dangerous for your equine's health.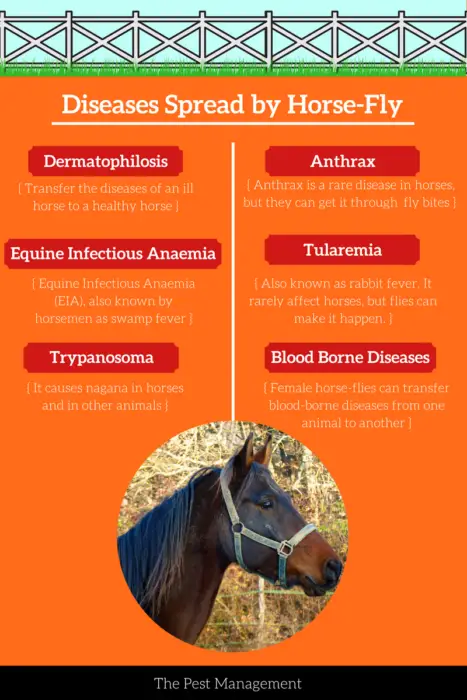 So, in this article, you'll read the reviews of best fly sprays for horses. I'll try to answer each and every question that comes to your mind.
Video by the University of Minnesota on Fly Control for Horses
In this great video Professor Roger Moon, PhD, and his graduate student Rachel Mottet, MS, from the University of Minnesota tells about how to control flies and other biting insects around horses.

Best Fly Spray for Horses
Absorbine UltraShield Insecticide and Repellent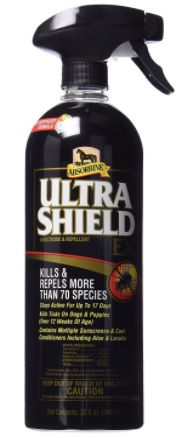 Generally, the number of flies increase in the hot summer. While horses in those summer days become hot and sweaty, that's why it becomes very important to have a horse fly spray which is sweat-resistant, along with repelling fly.
According to the Company, this spray kills and repels insects including mosquitoes which transmit West Nile Virus for almost 17 days.
The Ultrashield is the first weatherproof repellent along with its sweat resistant formula controls flies for 17 days. As it's weatherproof, it'll be effective even in the summer rainfalls. It also contains two sunscreens.
This repellent can be used on dogs.
It's one of the most advanced, and ready to use fly, tick, and mosquito repellent available on the market.
Check Reivews & Price on Amazon
Farnam Endure Fly Spray

It's a very popular horse fly spray manufactured by Farnam.
It's a sweat resistant horse fly spray. Whether flies, ticks, or lice are irritating your horse, you can get rid of them with this fly spray.
It'll stay on the horse even in the wet conditions, so you don't have to apply it again and again.
According to the company, it provides protection from fly up to 14 days.
Another good thing is that you can buy this product in various different sizes. Whether you need a small 32 oz bottle or a gallon, you can purchase it easily.
There are some people who also use this product on dogs. As horse and dogs, both are animals. It should be perfectly fine to use on them. But, you can also find special sprays manufactured only for dogs.
Check Price & Ratings on Amazon
PYRANHA Fly Protection Spray for Horses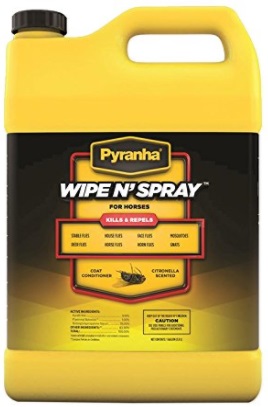 Pyranha Fly Protection Spray is one of the most popular Equine fly repellents because it effectively kills and repels biting insects like flies, gnats, horn flies, mosquitoes, and other similar ones.
This spray has Citronella scent, and it also contains lanolin as a coat conditioner. This product provides a beautiful sheen which you want.
This spray is based on the pyrethrins formula so that you can apply it directly on the animal without worry.
It's an oil based product, but you can also purchase a water based product.
This is ready to use product which gives effective results in just 1 to 2 ounces per head.
Many users of this product apply it on dogs also. But, before applying it to other animals, make sure you've acquired all the necessary information.
Check Reviews & Price on Amazon
Espree Aloe Herbal Fly Repellent Horse Spray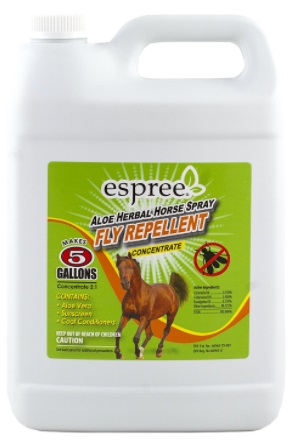 This EPA registered fly repellent contains essential oils, and that's why it's a Herbal Fly Repellent. It's the Top Pick of Horse Journal.
This herbal spray is pesticide free. It also contains coat conditioners and formulated sunscreen to fight from the skin related problems.
The ingredients of this repellent are Citronella Oil, Cedar Wood Oil, and Eucalyptus Oil.
It's safe to use in the stall areas and in the barn.
When purchasing this product, you have two options.
Concentrate (5:1 dilution), and the Ready to Use Formula.
When purchasing this product, you can choose from the three options; 1 Gallon, 5 oz, or 30 oz according to your need.
EQyss Premier Spray Marigold Scent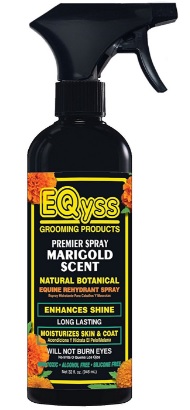 As the name suggests, this spray has a marigold scent.
This fly repellent for horses doesn't coat on their hair or skin. There are many unique ingredients are used while manufacturing this product that increases the moisture on your horse's coat, tail, and mane without leaving any slippery residue.
This product can be used daily after you bathe or brush your horse. So, you can guess that, if you're looking for a repellent that works for 14 days, then this may not be the best choice for you.
For getting maximum benefit, you can use it with the Premier Shampoo and Conditioner.
Whether you have a horse, pony, pregnant mares, or foals, it's safe to use on them.
It will protect the coat of your horse from bleaching out.
Along with these benefits, we can't ignore its ability to repel fly. It's good in doing that.
You can check the price here, it's not costly.
Conclusion
Whether you own a horse or not, these fly repelling sprays will be helpful for you. Most of the pest repelling sprays can be used on dogs, cattle, and on other pets.
But, I recommend that you read all the instructions carefully, and use it on other animals only if it's mentioned on the product.
All of the sprays mentioned above are great, but you've to choose one which comes under your budget, that meets your requirements and the type of protection you're looking for.
While, it's not necessary that, you purchase a commercial fly repellent. Many times, you can protect your equine by just following some home remedies and by using some herbal sprays.
If you find out that, the spray is not a good idea for you, then you can consider fly sheets. These provide your horse with a physical barrier that helps him to be comfortable. Just fly sheets, masks can also do wonders. I've written this article about the use horse fly masks. Reading it can give you a more clear idea about that.
So, now, you 've read the whole article, I want to know your thoughts?
Have you ever used a fly spray on your horse? If yes, then which one do you use?