Imagine, you wake up in the middle of the night, and you see a lot of brown dots on your bed sheet.
You know that, in the next morning, you are going to face many bed bug bites on your whole body.
Unfortunately, this happens a lot.
You can't let this happen again and again, right?
So, what's the solution?
You need the strongest bed bug killer to get rid of these pests from your house.
But, you can't go out and purchase random stuff, hoping it'll eliminate all the bugs from your bed.

My Recommendation: Strongest Bed Bug Killer
If I have to use any product in my house to kill bed bugs, then I'll use Bed Bug Killer by EcoRaider.
Note: Some people prefer Eco-Defense Natural Bed Bug Killer over any other product. No doubt, both of these products effectively kill bugs, but EcoRaider wins because it also provides residual action that keeps protecting you for at least 2 weeks, while Eco-Defense does not give such protection.
EcoRaider is a field-tested product that kills adults & nymphs quickly on contact. According to Rutgers University, EcoRaider is one of the most effective product for bed bug treatment, and it kills 87% bed bug eggs.
This is a natural & non-toxic product that is child & pet-friendly. Even, it is safe to use directly on the mattress and box springs.
This also leaves a residual killing effect that keeps killing bed bugs for at least 2 weeks.
The Entomological Society of America ranked EcoRaider as one of the most effective bed bug sprays available on the market.
By keeping all these things in mind, I personally recommend Natural & Non-Toxic Bed Bug Killer by EcoRaider.
EcoRaider is reliable, child & pet-friendly, affordable, and trusted by thousands of users.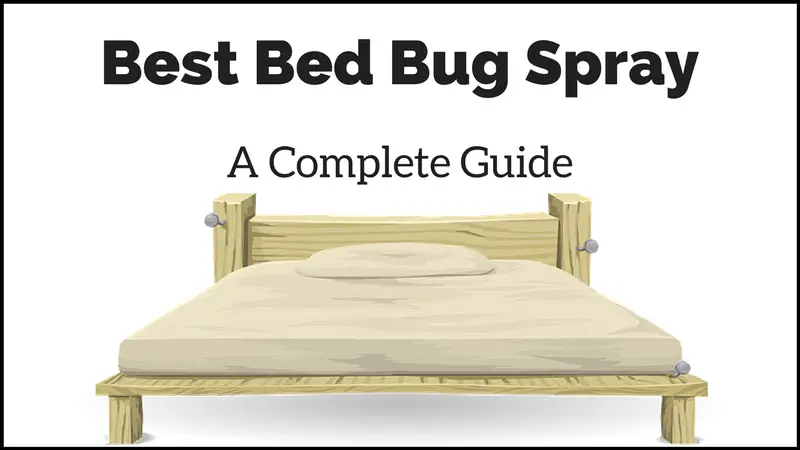 Best Bed Bug Sprays: Reviews
EcoRaider Bed Bug Killer (Personal Choice)
This is the product that I recommend to kill bed bugs in your house.
The EcoRaider is not a chemical pesticide. It is a natural & botanical based insect killer that is child, pet, bird, and fish friendly.
You can use EcoRaider directly on the mattresses & box springs, and it is safe for home furnishings. I liked this feature because some bed bug killer sprays leave stains or some products are not meant for direct use.
According to the data provided by Rutgers University, you can kill 80 to 90% bed bugs in 1 hour.
According to an independent study done by the Rutgers University, after testing ten natural products and two professional pesticides, EcoRaider is the only natural product that kills all the bed bugs (100% mortality rate). The same study also shows that EcoRaider is also the most effective product that kills 87% bed bug eggs.
The University study also shows that even getting dried, EcoRaider residual provides protection for 2 weeks, and even after two weeks, it's still able to kill 97% of bed bugs.
If you want, then you can read the real customer reviews of EcoRaider on Amazon.
It contains all the biodegradable ingredients that leave zero environment footprints and outperforms other conventional pesticides. It is also a good choice in areas where bugs have developed resistance to traditional pesticides.
Another study proves that EcoRaider works better than pesticides that contain chemical ingredients such as pyrethroids, deltamethrin, neonicotinoids, and Chlorfenapyr.
You may think, how this product only affects bed bugs?
EcoRaider works differently. It contains natural ingredients that attack a neuron receptor that only exists in invertebrates (such as insects) that cause immediate paralysis and death. But, it doesn't affect vertebrates (such as animals, fish, birds, and humans) because don't have that neuron receptor.
According to the Product Safety Lab testing, it causes zero to minimal skin irritation.
Therefore, it is generally safe, and you can use it in sensitive environments like clinics, public areas, schools, and houses.
If you take the professional help for getting rid of bed bugs from your house, then they'll charge hundreds of dollars, if not thousands.
But, EcoRaider is the most cost-effective and gives the best return on your money. It is a product that is tested in labs and trusted by thousands of users. You can see everything, its price, thousands of reviews, and other details on Amazon.
Eco-Defense Bed Bug Killer
Eco-Defense is the number one rival of EcoRaider.
It is one of the strongest bed bug killer sprays and also a natural one, and it's a USDA Certified Biobased product.
Its natural, non-toxic, and organic ingredients quickly kill bed bugs on contact. It works perfectly on all stages of life; Eggs, Larvae, Nymphs, and Adults.
You can directly apply it to the mattress, sheets, and covers to eliminate bed bugs. Don't worry; it won't leave any stains, that's the good thing which is appreciated by a lot of users.
As it contains organic, natural and non-toxic ingredients, there is no need to worry about any pesticides and chemicals, if you or your family comes in contact with it. Many users reported that, after getting into contact with it, they didn't see any harmful effects, while some users complain about little irritation. So, it depends on the person to person, and if you get into contact with it, then you can expect little irritation, at maximum.
Therefore, it is a child and pet-friendly product.
Personally, I like Eco-Defense very much, but I am disappointed to see that it does not provide any residual effect. It will kill bugs on which you spray it, but it won't protect you for the next few days. This is the only drawback of Eco-Defense.
Eco-Defense is formulated by the professional exterminators, and they're so confident on their product that they are giving the MONEY BACK GUARANTEE for 60 days. If you're not satisfied with the performance, then you'll get your 100% money back.
Ortho Home Defense Bed Bug Killer Aerosol Spray
This is a fast-acting aerosol spray that quickly kills bed bugs as soon as they come in contact with it.
This is slightly different than other bed bug sprays, as it not only kills bed bugs, it also effectively removes fleas, stink bugs, dust mites, and brown dog ticks.
It eliminates bed bugs and destroys their eggs that reduce the chances of having a future infestation.
Bed bugs are classified as a public health pest, and along with that, they are also very difficult to kill.
Pyrethroids are the most common pesticide that is used for the bed bug treatment. But, over time, they developed resistance to such pesticides, and now they seem to be unaffected by Pyrethroids.
But Ortho Home Defense Dual-Action Formula works with a different formula that is able to kill bed bugs, even those, which have developed resistance against pyrethroid.
You can use it on beds, luggage, and on furniture. It is considered a great bed bug killer for travel, as you can spray it on your luggage, and easily keep it
Drawback
There are hundreds of users of Ortho Home Defense, but many complain about its residual killing effect.
Ortho claims that its residual action is highly effective. But, users didn't see that.
According to users, it works really well, but its residual effect is not as effective as they claim.
Another thing that you should keep in mind that, it is not a non-toxic, natural or organic bed bug spray. It contains chemicals, and you should keep your children away from it. You should not spray it on humans or animals. It can be dangerous.
But, if you are looking for a one-time treatment that is really cheap and effective, then nothing is better than Ortho Home Defense. It is really cheaper than other products that I mentioned above.
Other Effective DIY Methods to Kill Bed Bugs
Use Steamers
Bed bugs can't survive at a high temperature, and you can strike on this weakness with a steam cleaner. These are highly effective, and you can use it on your mattresses. The good thing with steamers is, they don't leave any stains, and they also kill other bugs.
If you want to know more information then you can read this article that talks about using steamers to kill bed bugs in your house
Use Dryer
Just like steamers, dryers also produce a temperature that bed bugs can't survive. You can use this method. To know more about it, read this short article about killing bed bugs with a dryer.
Use Bleach
Bleach is a very common household thing. It can be used to kill adults as well as their eggs. But, don't use it on the mattresses, covers or fabrics, as it is not good for them. Check more info about using bleach for bed bug treatment.
Final Words
You can say, bed bugs are the number one public enemy, and you should get rid of them from your house.
I have reviewed 3 highly rated bed bug treatment sprays that you can use in your house. As I told earlier, I really liked EcoRaider. So, if you want to purchase one, then I'll suggest you go with EcoRaider Organic & Non-toxic Spray.
After doing the bed bug treatment, don't forget to use the best bed bug mattress cover.
Hope you find some helpful information here. If you want to ask a question or anything you want to share, feel free to use the comment box.