Best Rat Poison 2020: Strongest Rat Poison on the Market
*I may get commissions for purchases made through links in this post.*
Let's cut the crap, and move to the big question.
What is the best rat poison on the market?
There are many rat poison baits available out there, and many of them work really well.
So, I've shared some information about the most effective rat poison that you can purchase online.
But, there is one very important thing.
Do not forget to use bait stations for using the poison baits. These bait stations are specially designed so that other animals can't access the poison.
Don't risk someone's life to save just a few dollars.
If you just want to know about the best rat killers, then in the next section, you can find the quick review of that. Along with that, you can also use electronic rat trap for the effective solution.
You can also scroll down to read the detailed reviews of these products.
Homemade Rat Poison Recipes
There are many homemade recipes for making rat poison, but, one question always comes to our mind.
Does Homemade Rat Poison Work?
Frankly speaking, there is no guarantee.
A lot of people claim that home remedies work really well, but, again many people didn't find them effective.
There can be many reasons why a certain home ready doesn't work, like, not using proper ingredients, wrong placement etc.
So, there is one thing for sure:
Homemade rat poison is NOT as effective as commercial rat poison.
While there is one home remedy is too dangerous to use. So, do not use antifreeze to kill rats and other rodents.
But, still, if you want to try them, then I've shared 3 most popular home remedies for killing rats.
With Plaster of Paris
Create dough by mixing Plaster of Paris, Cornmeal, and milk. Make small dough balls, and place them into the crevices, and on their common routes.
When the rats eat the mixture, it'll harden due to Plaster of Paris inside their stomachs, and kills them.
Using Baking Soda
Mix baking soda with flour and sugar, and place the mixture where they can get to it.
The theory is, baking soda will create carbon dioxide in the rat's stomach. As rats can't pass gas, so, they'll die eventually due to the carbon dioxide in their stomach.
Using Soft Drinks
Just put some coke in a dish, and place it where rats can drink it. The same thing happens; they'll die due to carbon dioxide in their stomach.
This is cheap, but not very effective. You can read the short article on dealing with rats using soft drinks.
Types of Rat Poison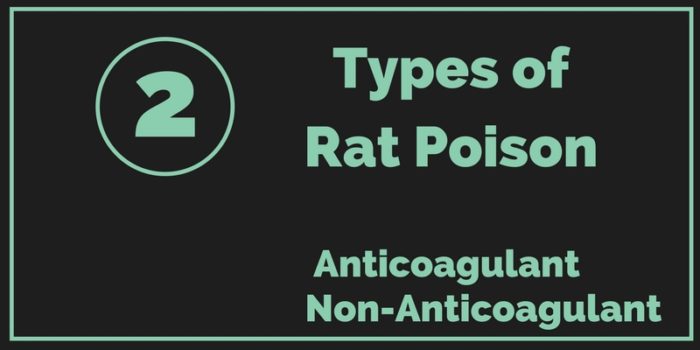 There are two types of rat poison:
Anticoagulants (Generally it stops normal blood clotting, and internal bleeding may begin)
Not Anticoagulants (They work in various different ways)
They can be further divided into Single Feeding or Multi Feeding Rodenticides.
As their name suggests, single feeding rodenticides will kill rats after just one feeding, while for multi-feeding rodenticides, rodents should feed multiple times.
So, the single feeding rodenticides will be more toxic as compared to multi-feeding. It's your choice which one you would like to choose, single feeding or multi-feeding.
Anticoagulant vs Non-Anticoagulant Rat Poison
The most common anticoagulant rat poisons contain Bromadiolone, Warfarin, Difethialone, Chlorophacinone, and Brodifacoum.
The common non-anticoagulant rat poisons contain Bromethalin, Strychnine, Zinc Phosphide, and Cholecalciferol.
Anticoagulant & Non-Anticoagulant Rodenticides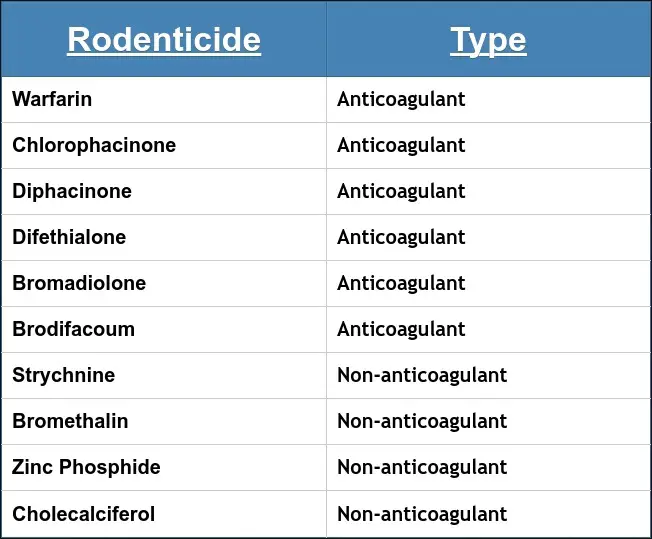 As we know, anticoagulant rodenticides work in a similar way, but what about non-anticoagulants.
Working of Non-Anticoagulants
Bromethalin: In the central nervous system, it stops the cells from producing energy. Due to this, nerve cells swell, putting pressure on the brain that results in paralysis and death.
Cholecalciferol: It's vitamin D3. The primary function of vitamin D is to maintain the calcium balance by absorbing calcium from the kidneys and guts. Toxic doses of this ingredient lead to too much calcium in the blood. This can affect kidneys, gastrointestinal tract, muscles, cardiovascular system, and also the central nervous system.
Zinc Phosphide: In the presence of water and acid, zinc phosphide changes into phosphine gas, which is very toxic. The exposure to phosphine gas damages brain, liver, kidney, and heart.
Strychnine: Products containing more than 0.5% strychnine are restricted. It can only be used below the ground surface. This leads to muscle spasms, and these can be so severe that they can lead to breathing paralysis and eventually death.
Signs of Rodenticide Poisoning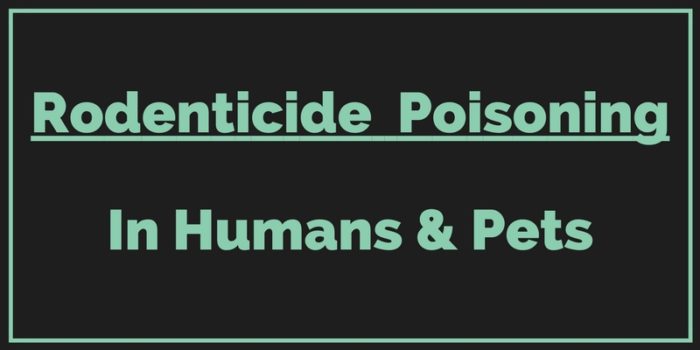 Always follow the instructions of a particular product. But, still rodenticide poisoning happens, then follow the first aid instructions. You can also contact at 1-800-222-1222 to the American Association of Poison Control Centers. You can also discuss the incident with the National Pesticide Information Center, if you want, by calling at 1-800-858-7378.
Poisoning with Anticoagulant Rat Poison
With this type of rat poison, uncontrolled bleed can take place in any part of the body. But, this is not obvious. Weakness, lethargy, and difficulty in breathing have been seen in the animals that are poisoned with anticoagulant rodenticides.
Tarry blood, vomiting, coughing, paleness, seizures, bruising, shaking, abdominal distention, pain, stools marked with blackened, and bleeding from the gums are also possible, but these are not common signs.
In humans, sudden bleeding from the nose, gums, or skin can happen. Internal bleed is also possible.
Best Rat Poisons in 2020
Contrac Blox Rodenticide
Contrac Blox Rodenticide is definitely the most potent rat poison on the market. Bell Laboratories, the manufacturer, created a great product that instantly caught my attention.
The active ingredient is Bromadiolone with 0.05% concentration, and therefore it's an anticoagulant in nature.
As it is anticoagulant in nature, therefore Contrac is less toxic to the non-target animals in both the situations; primary poison and the secondary poisoning. If non-target animals eat the bait, then there is an antidote available Vitamin K1, that should be used.
As the antidote available, so it is very much safer than the anticoagulant rodenticides. But, the treatment should be given as soon as possible.
If the product remains sealed and unopened, then it'll last nearly 2 to 3 years, but it needs to be kept away from the extreme temperatures. In the normal conditions, if opened, then it should last for nearly 1 year.
The manufacturer recommends that you should change the bait after every 40 to 60 days if it's still not eaten. But, it is very palatable, and rats will definitely consume it after a few days of placement. The optimal blend of food grade ingredients along with the primary rodenticide gives a highly palatable bait that attracts rodents.
If you're living in the very low cold or warm temperatures, then you'll need to change the bait a lot early than the 40 to 60 days because the extreme temperatures will mold or sour the bait, and it'll make the baits less effective.
The weight of the item is 18 pounds, and you'll get 288 blox.
As, I've told earlier that it's my number one choice for rat poison, but I highly recommend that you should the bait in the bait stations. This provides more protection for the unwanted poisoning.
Some people have a concern about the Norway rats as they are warfarin resistant. But, don't worry, the manufacturer clearly says that Contrac also kills warfarin resistant Norway rats.
There are many users of this Contrac Blox rat poison claims that the rodent exterminators use Contrac Blox as their bait. This shows that how effective this product is, because the exterminators charge hundreds of dollars, so they use the most powerful rat poison out there. You can read the customer reviews of Contrac Blox on Amazon.
This is a second generation, highly effective single feeding rat poison bait that works really well.
But, there is one thing that some people don't like about it.
This is slightly costly as compared to other cheap baits. You'll also get more quantity as compared to cheap baits because they're small packets containing a small amount of bait.
But, there is one thing for sure; this is worth the price you'll pay.
Pros
Anticoagulant Rat Poison Bait
Antidote Available in case non-target animals consume it
Palatable to rats
Single feeding requires killing rats
2 to 3 years of the expiration date for a sealed pack, while 1 year for opened
Poison baits are in the form of blocks that are easy to handle
One of the highest rated rat poison out there
Trusted by hundreds of users, and works great
My favorite product for killing rats
Cons
Price is slightly higher than the cheap baits
Not available in the smaller pack
Final Verdict
I love this product because it's anticoagulant in nature, so there is an antidote available that can be used in the case if a non-targeted animal consumes it. This thing, the availability of antidote reduces the risk to some extent. However, it is still dangerous, and it should be kept away from the reach of children and other animals.
There is no doubt about the effectiveness; you can find hundreds of advocates of this product.
Some people don't like it because you'll get 288 blox and the price is slightly higher than the cheap baits.
But, you don't have to worry about that. It has nearly 1 year of expiration date after opening it, which is much more than you'll need.
So, my opinion is, if you want a really good product then there is nothing better than Contrac Blox.
Before purchasing any rat poison, I suggest you take a look at the price and the real customer reviews of Contrac Blox.
JT Eaton Bait Block Rodenticide
JT Eaton is a trusted brand that is manufacturing high-quality pest control products since 1932.
The JT Eaton Bait Block Rodenticide is a first generation anticoagulant rat poison that is formulated into the small blocks. As it is tested that, rats and mice get more attracted towards peanut butter, so they have used peanut butter flavor in this bait.
You'll see that rats will eat the bait in no time, and they'll really love it.
This is anticoagulant, so there is an antidote available that can be used in case of bait consumption by a non-target animal.
But, it is multi-feeding rat poison bait, that means to effectively eliminate rats from your house, the rodents have to eat it more than once.
Sometimes, it can take a few days to see any dead rat. But, generally, you can see dead rats in the next 1 to 3 days of treatment. It is a multi-feeding rat poison but still, it works really well, and that's why so many people recommend it.
The active ingredient is Diphacinone with 0.005% of concentration.
When you open the product, you'll get 144 packs or small blocks of rodenticide, 1 ounce each to be more accurate. The dimensions will be 10-1/2 inches length, 10-1/2 inches width, and 10-1/4 inches height. These green colored baits have a peanut butter flavor that attracts rats.
In the center of the bait, you'll find a hole that helps you to easily place the bait with the help of a pin, so the rodents will not take it anywhere else.
The total weight of the product is 9.5 pounds, and it also comes with a 1 year of limited warranty that gives protection against any defects and workmanship.
If you keep the JT Eaton Bait sealed and unopened, then it'll last for nearly 3 years, while after opening, it'll last for nearly 1 year.
There are hundreds of users of JT Eaton Rat Poison Bait, and they love it because rats love it. You can find many reviews where users are saying that mice and rats eat the bait very quickly.
It is one of the best rat poison baits for attic and basement where their population is high, and they don't get food for days. So, when they find the bait that is peanut butter flavored, they'll quickly eat it.
When it comes to price, it is affordable. Many people purchase it because the quantity is not very large and the same thing is with a price. They can purchase it easily, and when the rats finished one bucket, they ordered another one.
Pros
Anticoagulant rat poison bait
Peanut butter flavor that rats love
Manufactured by a trusted brand
3 years of an expiration time for a sealed bucket, while 1 year for an opened bucket
1 year of limited warranty
Multi feeding bait, but still effectively kill rodents
Affordable Price
Cons
Multi-feeding bait, generally it'll take more than 1 day to kill rats in your house
Final Verdict
This JT Eaton Peanut Butter flavored rat poison is trusted and tested by hundreds of users. It is multi-feeding bait, so it'll not kill the rodents just after the first feeding, but it definitely kills them after multiple feedings.
You may think that it is multi-feeding bait so it'll not be very effective in killing them. But, that's not true. It is one of the most popular and most effective poison bait for killing rats that you can purchase.
Also, it is anticoagulant bait, so in case of consumption by any non-target animal, you can use the antidote should be available in the medical stores.
Many users want to purchase contrac blox, but they end up buying JT Eaton Peanut Butter Flavored Rat Poison but it is nearly half the price of Contrac Blox.
So, JT Eaton Rat Poison is also a good option for controlling rat population in the house. You can read the real customer reviews of JT Eaton Rodenticide to find out how it is working for other users.
Just One Bite II Chunks
Just One Bite is one of the best-rated rat poisons available.
This product is successful because it is anticoagulant in nature, and there is an antidote available out there that can be used in case any pet animal consumes it.
These yellow colored bait chunks contain Bromadiolone in 0.05% concentration and the rest are other ingredients.
The baits are highly palatable to rodents, and therefore there is a risk of insect infestation on them.The manufacturer treated the baits with S-Methoprene that protects the bait from getting infested with insects.
When it comes to the effectiveness of this product, then there is no doubt about it. It effectively kills common species like roof rats, house mice, and also the warfarin resistant Norway rats.
According to the manufacturer, Norway rats and the house mice can consume the lethal dose in the just one feeding.
But, even after the feedings begin, it can take 4 to 5 days to see any dead rodents.
Some people don't like this thing because they want to get rid of rats as soon as possible. But, there are many cases where rats show shyness to a bait, and they don't consume it in large quantity.
To handle the shyness of the rodents, they created this bait that attracts the rats, and they start feeding on it, and in the next few days, they die.
It may take a few days to work, but there is one thing for sure, it really works.
It is awesome.
To kill the rats, you can place the baits in the burrows, runways, and places where they live and breed.
You can see a hole in the bait chunks that allows easy placement in the bait stations.
In this product, every bait is about 2 oz, and for the perfect results, apply 2 to 8 blocks that are 15 to 30 feet away from each other. If there is an active burrow, then insert the bait at least 6 inches deep inside the burrow.
If a non-target animal like dog, cat or any other animal consume it or the dead rat that dies due to the poisoning, then they can also be poisoned. In that case, reach to the physician.
When using the Just One Bite Rat Poison, I highly recommend that you use it in the bait stations.
Pros
Anticoagulant rat poison bait
Antidote available
Effective on warfarin resistant Norway Rats
Protection of baits from the infestation of insects
Palatable to rats
Trusted and tested by hundreds of users
Cons
It can take 4 to 5 days to kill rats in your basement and attic.
Final Verdict
This is a popular rat poison and everyone knows that it works really well in killing rats in your house.
It is effective, affordable and attracts the rodents but the one thing that some people don't like it is that it takes a few days to kill them.
The immediate reaction towards this product may not be good. But if you think a little, then you'll find that it is actually a good thing that helps this rodent poison bait to succeed on the market.
Many times, rats don't consume a large portion of the bait because they are shy of the new things. Therefore, sometimes some cheap single feeding baits that are not palatable don't kill all the rats.
Here, I'm not talking about the single feeding baits that I've discussed above. They're really good ones, and they attract all kinds of rats and perfectly kills them.
Rats find these baits attractive, and they keep eating it for a few days, and due to this other rats present in your basement, or attic also start consuming it.
Guess, what happens next?
All the rodents start dying, and you'll see a rodent free house.
This is the best rat poison for basement and attic because you don't have to check it every day. Just place the bait, and check the results after a few days.
Final Words
So, these were the highly effective rat bait poisons for killing these rodents in your house, attic, and basement.
And, if you are living in the Chicago, then you should be very careful about these animals because Chicago tops in the list of 50 rattiest cities.
But, using them with caution because these can be dangerous. You should use electronic rodent repellent devices that repel rats as a precaution, so you don't have to use poison baits.
I hope that you had found some great information from this article.
Let me know if you have any questions.