4 Best Cat Flea Collars: Most Effective Collars for Kittens & Cats
An ounce of prevention is worth a pound of cure they say. The best cat flea collar will protect your cat from fleas by killing existing fleas and preventing further infestation.
As an animal lover, there are few things worse than seeing your feline friend suffering the discomfort and irritation fleas can cause.
To make matters worse, if left untreated, they will soon become a problem for other animals in the home as well as for humans. They can create a major problem.
If you are still wondering if cat flea collars actually work, the answer is a resounding yes. A quality cat flea collar will deal with existing fleas on your cat or kitten and repel new ones.
Apart from the discomfort and irritation fleas cause, if left untreated they can cause the spread of disease and lead to the cat becoming ill. In severe cases, it can lead to death.
There are other options such as shampoos (have you ever tried to bath a cat?) and spot treatments. Some of these work very well but nothing beats the ease and convenience of a simple yet effective flea collar.
Advantages of Cat Flea Collars
The main advantage of a flea collar is that they are super easy to use. You simply pop them on the cat or kitten, adjust the size and they start working immediately. No mess no fuss.
They are an extremely cost-effective means of treating and controlling fleas and the good collars work for many months.
You may think that, are flea collars safe for cats?
Flea collars are safe for your cat, other pets, and your family. The good flea collars also have a breakaway feature or stretch to prevent the cat from getting choked by the collar if they get it caught on something.
Types of Flea Collars for Cats
There are 3 main types of flea collars for cats:
Ultrasonic
These work by emitting ultrasound waves that repel fleas. They tend to more expensive than the average flea collar and some people dispute their effectiveness.
Biological
This is a natural type of collar that use uses herb-based ingredients and essential oils. It is totally safe and environmentally-friendly however it does have a limited effect and will not work if you have a serious flea problem. They also do not remain effective for a long period of time.
Insecticidal
The most common type of flea collars, these prevent and kill fleas and tick on cats and kittens.
What to Look for When Buying a Flea Collar
Adjustability
It is important that the collar has a lot of stretches or is adjustable to ensure a good fit. This will make it more effective and safer for the cat.
Some are only suitable for or up to a certain size so take note of that. Remember, when buying a collar for a kitten that they will grow quite quickly in the first few months so keep an eye on how well the collar fits.
Breakaway Design
Cats are adventurous and curious by nature. They love to climb and explore. If they get their collar caught on a branch or something, the collar could choke them. If it has a breakaway feature the collar will release itself when the cat pulls hard and this will free it from the collar.
How we selected the top flea collars for cats
There are many cat flea collars on the market and testing each one individually is not practical and would take far too long. What we did is research each product and look at the features and benefits as well as the specifications of the various products. We then read countless reviews from pet owners that have bought and used the different collars.
After reading enough reviews, you start to pick up patterns and you get good firsthand insight into the quality of the collar. We have done all the hard work and compiled it here to make the choice easy.
Best Cat Flea Collar Reviews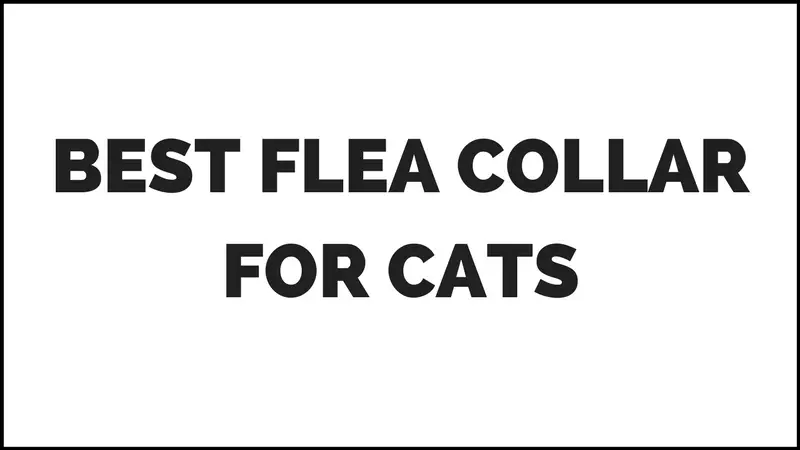 Bayer Seresto Flea and Tick Collar for Cats
One of the most popular choices on the market is the highly rated Bayer Seresto Flea and Tick Collar for Cats. It is regularly recommended by veterinarians. The highly effective collar works for up to 8 months.
While it is slightly more expensive than the average flea collar it is hard working and long lasting. The collar is water resistant so you do not have to worry about rain or the odd bath. It is also odorless and non-greasy.
The collar not only protects the cat from the menace of fleas but also has a breakaway feature to ensure the cat does not become choked by its collar. If the collar becomes caught on something the release mechanism will break open when pulled to prevent the cat from strangulation or becoming trapped.
It is easy to adjust so that you can get a perfect fit. Snug fitting collars are safer and less irritating for the cat. The Seresto collar is suitable for kittens and cats up to 17.7 pounds.
It is convenient to use and easy to place on the cat. The active ingredients start working immediately and the results will be seen in 24 hours. It is also effective against tick infestation.
Pros:
Breakaway release mechanism
Long lasting– up to 8 months
Lightweight
Waterproof
Odorless and non-greasy
Fast working and effective
Cons:
Slightly more expensive than average
Not suitable for kittens under 10 weeks
Some people found adjusting tricky at first
Hartz UltraGuard Plus Flea & Tick Collar for Cats
Another top-selling collar is the UltraGuard Plus by Hartz. This is a flea collar that works for kittens and cats 12 weeks and up. The collar is water resistant and remains effective killing and repelling fleas, flea eggs and ticks for up to 7 months. This collar destroys the life cycle of the flea. The UltraGuard Plus also kills and repels ticks.
It also has a safety breakaway release feature to prevent the cat from becoming trapped or choking if the collar gets caught on something.
Before using this collar on your cat, it'll be good to check any flea dirt on your cat. If you found any, that's a clear sign that your cat is being infested with fleas.
Pros:
Cost-effective flea protection
Breakaway release safety feature
Water resistant
Powerful and effective for up to 7 months
Features 3M™Scotchlite ™Reflective Material for high visibility day and night
Cons:
Strong odor
Some cats might find the active ingredients causes allergic reactions
Only suitable for kittens of 12 weeks or more
Will not fit an extremely large cat
Beloved Pets Flea and Tick Collar
While we said earlier to be careful of some natural collars, the Beloved Pets product is totally safe. It is non-toxic and suitable for even the most sensitive cats. If you have had problems with cats reacting to the chemicals in other products, this is a great option.
Although it uses natural non-chemical based ingredients it is still extremely effective however it will only last about 4 months.
The collar is easy to adjust to get a good and safe fit. It provides cats and kittens with effective treatment and control of ticks, fleas and other bugs. It is 100% safe for kittens, cats, other pets and your family.
Another great feature is a 100% money back guarantee. If you are not completely satisfied with the product, you can return it and get your money back.
If you have had issues with other products, the Beloved Pets product is defiantly worth a try.
Pros:
No chemicals, non-toxic
Completely safe for your cat and other pets as well as your family
Effective in controlling and treating fleas, ticks and other bugs
Breaks the flea life cycle
Easy to adjust to the size of your cat
Money back guarantee
Cons:
Many find the odor unpleasant
Only effective for 4 months making it less cost-effective than other options
Pet Gallo Flea & Tick Cat Collar
The Pet Gallo Flea & Tick cat Collar is extremely effective and will last a good 6 months. It is fast working and reliable.
The collar is water resistant so that is one less thing to worry about. It has a generous 60cm/23.5 inches length so will adjust to fit most cats. You can cut off any excess length if your cat has stopped growing. Unlike some other collars, the Pet Gallo product has a pleasant odor.
It has a powerful effect without any risk to the cat or humans. This is a cost-effective solution to treat and repel ticks and fleas leaving your cat comfortable and itch-free. Pet Gallo also offer a 100% money back guarantee.
Pros:
Pleasant Odor
Water resistant
Repels and kills and repels fleas, flea eggs, and larvae
Money back guarantee
Fragrant scent
Lasts 6 months
Cons:
No breakaway release mechanism
Powerful chemicals might cause some cats discomfort
Final Words
There are a number of cat flea collars on the market and you can't go wrong with any of these top options. Some might suit your cat or your needs better than others.
The main thing is, these products are all effective at breaking the flea life cycle and will get rid of the discomfort, irritation, and risk that comes with fleas.
After reading these flea collar reviews, I hope that you had found your best flea and tick collar for your cats. Along with that, you can also use coconut oil to repel fleas from cats.
All of these products have received positive feedback from cat lovers and are popular choices.