Best Steamer for Bed Bugs: 5 Most Effective Steam Cleaners in 2020
*I may get commissions for purchases made through links in this post.*
Killing bed bugs with steam is a good idea because you're not using chemicals, and it's very effective. Just make sure, steam is of enough high temperature to kill them.
Your normal steamer may not be able to kill them, that's why; I've shared the reviews of the best steamers for bed bugs that you can use to eliminate their population from your house.
Is steam cleaner effectively kills bed bugs?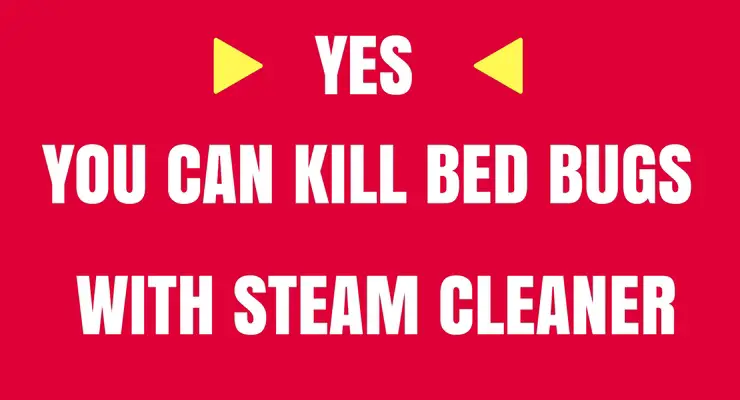 Yes, it's an effective way to get rid of bed bugs.
The high heat of a steamer can kill bed bugs. Along with them, it's a great chemical free way of treating other similar pests like dust mites.
At a very high temperature, it can kill any bed bugs & their eggs on contact. Therefore, they are a great option for the chemical-free cleaning of the infested area.
5 Best Steam Cleaners for Bed Bugs in 2020
McCulloch MC 1275 Heavy Duty Steam Cleaner (Personal Choice)
McCulloch MC 1275 is great bed bug steamer that effectively kills bed bugs, dust mites, and other allergens.
The 18 accessories and its many features make it a very easy to use the product. It doesn't use any chemicals.
This steam cleaner is able to remove stains odors from carpets, mats, upholstery, and even grease & grime from wheels, and engine accessories. You can use it for removing dirt from the garage, kitchen, patio furniture, or the BBQ grill.
A special lighting system will indicate you when the steam is ready to use, and you can also control the amount of steam coming out from it.
Along with its 15 ft power cord, wheels, and special attachments allow you to clean hard to reach places in your home.
With the 48-ounce water tank capacity, which heats up in less than 8 minutes, you can use the steam for continuous 45 minutes, and you can clean & kill all the bed bugs in your house.
The 18 Versatile Accessories include:
Steam Cleaner
Mop Head
Extension Wants (2)
Carrying Handle
Microfiber Pads (2)
Measuring Cup
Water Funnel
Triangle Brush
Squeegee
Steam Jet Nozzle
Carrying Handle
Brass Utility Brush
Nylon Utility Brushes (5)
Scrub Pad
You can read the reviews of many users who successfully eliminated the bed bug infestation with this product.
MR – 100 Primo Steam Cleaning System by Vapamore
Vapamore is one of the most trusted manufacturers of steam cleaning products.
The Consumers Digest Magazine awarded this steamer as the number one pick for the consumers.
This Vapamore Steam Cleaner produces steam of 2100F – 2200F temperature that is capable of killing bed bugs & their eggs. With this steamer, you can eliminate germs, dust mites, and other allergens.
The MR-100 do cleaning in a chemical freeway and it's good for the deep cleaning in garage, backyard, kitchen, bathroom, BBQ grill, and you can also use it on mattresses, & sofa for killing bed bugs.
If you want to clean food preparation equipment, then there is no better option than this steam cleaner.
The Vapamore MR-100 Steam Cleaning System includes:
An 18 ft. retractable cord
60 Minutes of Operation per Tank
6 Liter Stainless Steel Boiler
Solenoid Operated Steam Control
1500 Watt Water Heater
Adjustable Steam Output
Along with these features, you'll also get an MR-100 Lifetime Warranty.
With all these accessories, I've to say, it's the best steam cleaner for bed bugs in 2020. By providing the incredible value to the user, it's one of the top products for the cleaning.
Comforday Handheld Steam Cleaner
As we know, high-temperature steam kills germs & insects; so, therefore, you can choose it as a handheld bed bug steamer for your house.
This is a handheld steamer, so it's very easy to use and you can handle it comfortably.
It's 100% chemical free, so whether you want just cleaning, or you want to kill bed bugs, it's safe to use in your house.
For your safety, there is a safety lock on the handle, and a safety cap is present in this handheld steamer for bed bugs.
The Comforday steam cleaner can be used on various surfaces, and for killing bed bugs you can safely use it on mattresses, fabric & sofa, curtains, and other similar places.
The 1050W of power produces pressurized hot steam of up to 2700F, and you can use the steam continuously for 20 minutes.
Whether you want to use it in your house, or outdoors, it's a great option for you.
You'll get these 9 accessories:
Extended Nozzle
Measuring Cup
Funnel
Spray Cup with Brush
Bent Spray
Spray Cup for Door & Window
Brush Plate
Long Spray Cup
Towel Sleeve
If you're looking for an affordable steam cleaner for killing bed bugs, that is not very costly, then this is a good option for you.
Wagner 915 Power Steamer
To get rid of bed bugs in your house, you can trust on this Wagner Steam Cleaner.
If you check the reviews of this product on Amazon, you'll find there are many users who successfully eliminated bedbugs & dust mites from their houses.
As it uses steam for cleaning, you don't have to worry about chemicals.
There are various options available for you that increase the usability and control over the product.
The steam cleaning kills bacteria and sanitizes the surface of your house.
Its 8 ft. hose supports a large working area, and for reaching a far place you can take the help of its two extension tubes.
In the box, you'll get:
Power Steamer
Floor cleaning brush & cloth
Two extension tubes
Window squeegee
Utility brushes
Measuring a cup and fill funnel
User manual
It's a budget-friendly product that does the job effectively. You can read reviews of hundreds of happy users.
Steamfast SF-275 Canister Steam Cleaner
This is a canister steam cleaner which is equipped with the powerful 1500 watt heating system.
This machine heats up in a few minutes and gives you a chemical-free way to kill bed bugs and thorough cleaning of your house. With that, you can get rid of bed bugs, dust mites and other similar pests that we can't tolerate in our house.
Along with treating pests, it also easily removes dirt, stains, and grime from sinks & tubs. You can use it for sanitizing floors, and for making a cleaning house.
It has a large 48-ounce water tank, so you can use the steam continuously for 45 minutes.
There is a feature of indicating light that tells you when the steam is ready to use. Its continuous steam locking switch is also very helpful because you don't have to hold the switch all the time you do cleaning.
For canister vacuums & steamers, mobility is always an issue. To overcome that, the Company added large back wheels and front casters that give the smooth mobility from room to room. With its 12 ft. power cord, you don't have to plug it again and again.
It's a great bed bug steam cleaner for you, but there are no special accessories for that. But, you can easily use other accessories for killing these insects.
With this canister cleaner, you'll get a total of 17 versatile accessories including steam mop attachment, scrub pad, and many utility brushes for effective cleaning.
The Company also offers 1 Year Limited Warranty.
For solving the bed bug problem of your house, you can depend on this product. And, it's not very costly. So, when looking for the best steamer to kill bed bugs, we always give it a fair chance.
5 Things to Consider Before Buying a Steamer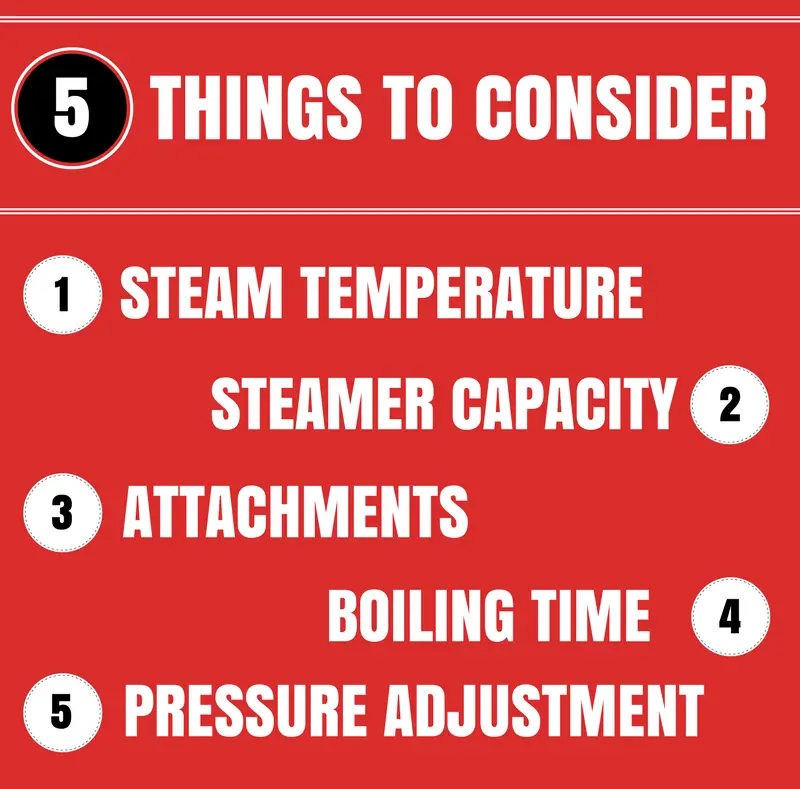 When selecting a bed bug steam cleaner, paying attention to the following things will be a lot helpful for you.
Steam Temperature: Steam of more than 2000F kills bed bugs & their eggs. So, make sure, it produces steam of at least 2000F; otherwise, it won't be able to kill them.
The capacity of the Steamer: When killing bed bugs, you will not want to refill it after every 10 minutes. So, having a larger tank capacity is better.
Attachments: Pick a product that has appropriate attachments for all type of surfaces like tiles, carpet, and hardwood floors.
Boiling Time: Pick a machine that boils water fast. Most of the products take at least 10 to 15 minutes to boil water.
Pressure Adjustment: It allows you to adjust the steam pressure because to kill bed bugs in mattresses, you'll need more pressure. But, this feature is not present in all the products.
How to Use Steam Cleaner for Killing Bed Bugs?
Many people complain that heavy duty bed bug steam cleaners don't work.
But, it works. It didn't work because they didn't use it correctly.
Read the given instructions to know how to get rid of bed bugs with a steam cleaner.
1…. Don't steam an area that has been recently treated with any chemicals including diatomaceous earth. The heat can break down the chemicals, which can make them harmful. So, apply any chemicals or pesticides after steaming.
2…. Before steaming, clean the areas with the vacuum cleaner. It'll increase the effectiveness of this method. After vacuuming your house, dispose of all the contents outside of your house, because it may contain bed bugs & their eggs.
After that, wash the disposal of the vacuum with hot water, it'll kill any remaining insects, and the vacuum components can withstand hot water.
You can also use a steamer + vacuum combination.
3…. Carefully read all the instructions before using the steamer. As they produce steam of very high temperature, a little ignorance can cause burn injuries. Therefore, use all the precaution measures.
4…. Start from the top of the room, and then move downwards. First, clean the drapes, and then move to the floorboards.
You can use the steamer on mattresses, sofas, carpets, moldings, and more. The mattress is the best place to find bed bugs in your house, so make sure, you do the steam treatment of that.
Never use steam on an electrical outlet or appliances.
5…. If possible, you should use a larger head attachment instead of a smaller one for the nozzle. The smaller attachment produces a centralized pressure, and it'll scatter the bed bugs rather than killing.
Some steamers come with a pressure adjustable output and a control valve. They are much better in eliminating the insects as compared to others.
6…. Make sure the tip of the nozzle is about 1 to 2 inches away from the surface, and move it at a rate of 1 inch per second. Moving it too fast will decrease the effectiveness while moving it slower will consume just extra time.
7…. After the steam treatment of the mattress, let them dry completely. Applying the encasements too soon after the treatment can result in the growth of mold.
8…. After the steam treatment, in the next few days, be aware of any warning signs of bed bugs. If you see any signs, then treat the area again with the steam.
Advantages of Using Bed Bug Steamer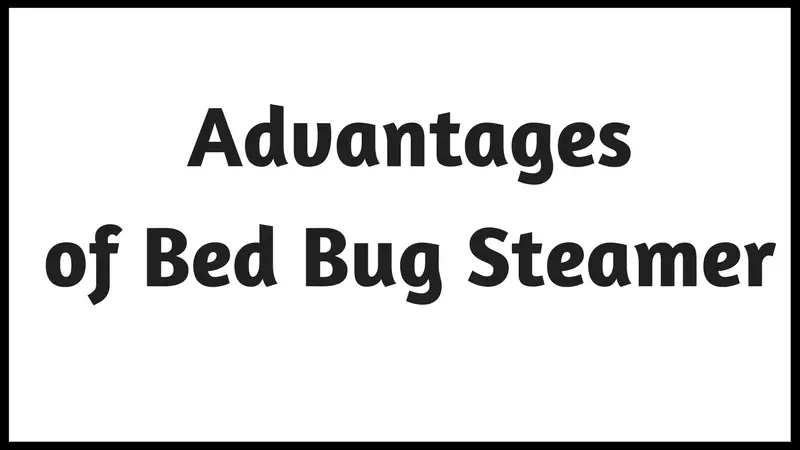 These are the main reasons why I prefer canister & handheld steamers to kill bed bugs over others.
It's an environment-friendly way to kill these insects.
Mattresses, box springs, & carpets are the places where they hide. In those places, you can effectively kill them by steamers.
It doesn't harm any household things like furniture, mattress, carpets etc. But, if you're not careful, then it can remove varnish from furniture.
It not only kills bed bugs but also their eggs.
There are many places where you don't want to use chemicals. In those places, it is very helpful.
Steam will be highly effective if, after the treatment, you use other methods like bed bug sprays, & diatomaceous earth.
Do we need other methods along with steam cleaner?
Here is the truth!
Whether you're using steam, bed bug sprays, or diatomaceous earth. Only one method may not be able to eliminate a huge bed bug infestation from your house.
If the infestation is low, Yes, you can eliminate them by using bed bug steam cleaner.
But, what if there is huge infestation?
In that case, only steamers won't be able to eliminate all of them from your house. You'll need to take help of other products like diatomaceous earth, and bed bug sprays.
If you want to read, then I've shared an article that talks about the best bed bug spray on the market.
If that's the case, along with steamers, you should also use diatomaceous earth or bed bug sprays available on the market.
You can also use home remedies like bleach.
Health & Safety Precautions
Killing bed bugs with steam is a very effective way, but it does also can be dangerous. Therefore, when operating it, you should take these precautions.
Read the manual carefully. It'll tell you about the necessary things required for operating the machine.
Be careful when using the steam. It'll be very hot, and it can cause burns & injuries. So always be very careful.
Do not let children use the bed bug steamer.
Always use the steamer away from yourself.
Sometimes, when you start the steamer, it spits out hot water along with steam. So, you can use a towel to capture this water.
To kill bed bugs using steam, you should use a wide nozzle that distributes steam at lower pressure. If you use a narrow nozzle, it'll throw steam at very high pressure, and the bed bugs will be blown away, and they may survive.
Final Words
In the above, I've shared everything that you should know along with the best bed bug steamer reviews.
But, as I mentioned above, my personal choice is McCulloch Heavy-Duty Steam Cleaner MC1275 for bed bugs removal in the house.
If you want to get rid of bed bugs completely, then you can use this method along with other things like diatomaceous earth or sprays.
After the treatment, I'll highly recommend that you use top rated bed bug mattress encasements so that they will be protected from future infestation. By using such mattress covers, these bugs won't be able to bite enter in your mattresses, and those who are already inside the mattress will die in a few months because they'll not get their diet.
What are your thoughts about using steam for the treatment?