There are many chemicals & products available that works excellent in terms of killing termites.
But, what is the best termite killer on the market?
Is it spray, liquid solution, or the termite bomb?
People often ask,
Are Termites Bombs & Foggers Effective?
No, termite foggers are not effective. They disperse insecticide all over the place, but it only kills the pests that came into the direct contact with it.
Termite foggers & bombs do not kill the pests that are present inside the wall and under the wooden structures.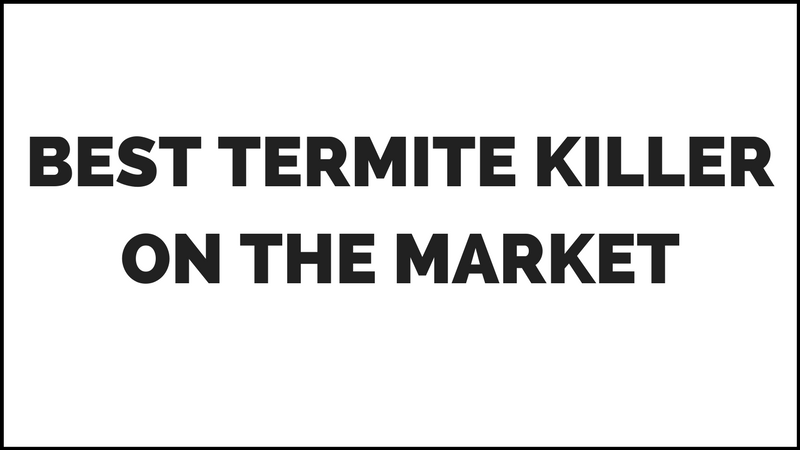 Best Termite Killer Product: The Quick Review
If I've to recommend just one product, then I'll go with Termidor SC Termiticide.
Along with killing all types of termites, it has superb ability to kill cockroaches, spiders, crickets, ants, and much more.
But, there's a catch!
Termidor SC is slightly costly (just a little) than other products, but as far as I know, this is the most effective & strongest termite killer available on the market. If you observe closely, you'll find that the professional pest control companies use Termidor.
This is not the only product that works. There are many low price sprays that you can use to get rid of these pests.
Like, the TERRO Ant & Termite Killer Aerosol Spray is good yet a very low price product that will kill termites as well as carpenter ants. But, it is not as effective as Termidor SC.
That's why; my personal choice is Termidor.
I can surely tell you that, it is worth the price you'll pay, and you'll never regret your decision.
I'll recommend that you check the price of Termidor SC Termiticide at least once before making your choice.
3 Best Termite Killers Reviews
Termidor SC Termiticide (I recommend)

Termidor SC Termiticide is the best liquid termite killer you can purchase on the market. It is the strongest termite insecticide; therefore, professional companies use it for the treating walls and the foundation of a house.
It works well on all the species. It doesn't repel them, and when they come into the contact, they die.
If you use it as in-ground barrier treatment for your house, then you have no need to worry for over 10 years.
You can purchase 20 oz. bottles of Termidor and each bottle yields approximately 24 gallons of finished ready to use solution.
Not just wood damaging pests, it effectively kills cockroaches, earwigs, silverfish, various kinds of ants, crickets, paper wasps, yellow jackets and other pests. But, it should be noted that Termidor is not the proper solution for wasps & yellow jackets. I'm glad that the company told the truth. The Company itself says that Termidor is not a knockdown product for yellow jackets and the wasps.
Note: This product should only be used inside wall voids. Do not use it indoors for the pest control other than the inside wall voids.
To get protection from any future infestation, mix the Termidor with water and pour in a 6-inch deep trench that should be dug around your house foundation.
Check Details of Termidor SC Termiticide on Amazon
TERRO Ant & Termite Killer Spray

It is a very low cost but still one of the best termite sprays you can purchase. As the name suggests, you will get a spray bottle which can be used to spray directly into the wall voids and into the infested wood structures where you suspect any pests.
With this termite treatment spray nozzle, it becomes very easy to apply it in the cracks and crevices.
Its quick killing action kills termites on contact, and its long-lasting residual action protects your house for the next 4 weeks.
With this termite killer spray, you can also rid of carpenter ants, carpenter bees, beetles and wood wasps at the same time. The good thing is, you can use it both indoors and outdoors.
It is a non-staining spray, and after using it you'll not feel the unpleasant odor all over the house.
With all these features, it becomes the best home termite spray for wood for which you have to pay very less money as compared to other products.
Check Details of TERRO Termite Spray on Amazon
Ortho Home Defense Termite & Destructive Bug Killer

As the company states that, it is the Ortho's most powerful and strongest insect killer.
It kills pests that are responsible for destroying wood and your home. It is effective on subterranean termites, ants, bees, and other pests that are listed on the product.
You can use it for the trenching treatment of your house, and it will give you up to 5 years of protection.
You can also use it around your home's foundation, woodpiles, wooden structures, and other places that are the sweet target of such pests.
This is a good product and it really works. You can easily find a lot of customers who purchased it and save their house from wood destroying pests.
When it comes to price, it is not very costly. It is affordable and worth the price.
Final Words
These all are the top rated and trusted products but as I mentioned earlier, my personal choice is Termidor SC, because it is specially made for these wood destroying pests.
Another thing is, some people use termite foggers in their house. But, it is not a good idea because they termite bombs disperse the pesticide all over the house, but as we all know, if you want to kill them then you have to reach inside the wall. You can also attract them to come out by placing a cardboard trap.
In short, if you ask, will bug bombs kill termites?
The answer is, yes, but only a few that come into the contact, and it is not sufficient. You have to use the bug bombs in your house again and again, but still, there will be no major relief from these wood damaging insects.
So, I'll suggest you to not spend your money for purchasing termite bug bombs for your house.
I hope that this article helped you to get the information you want.
What is your best product to deal with these wood-destroying pests?