Snakes are the deadliest pests one can encounter and detect in their homes as they are extremely poisonous.
There are a lot of products in the market to prevent snakes from entering your premises. The Ortho Snake B Gon repellent granules are considered the most reliable, effective and the best snake repellent available in the market.
In this article,we have reviewed the Ortho Snake B Gon and also listed many of its specifications along with the pros and cons.
Ortho Snake B Gon Review
The Ortho B Gon prevents the snakes from entering your homes through their appalling smell. It also inhibits the building of nests and foraging by the snakes in and around your house.
The Ortho B Gon lasts exceptionally long and delivers the same efficiency as it did in the first use. This snake repellent is created using unique formulations to create a rain-resistant formula.
The Ortho B Gon snake repellent is a ready-to-use and no-stink formula as they are created using essential oils. The active ingredients in the formulation are cinnamon oil, geraniol, castor oil, peppermint oil, and clove oil.
Due to the presence of natural and non-evasive ingredients, they are safe to use around children, plants, and pets.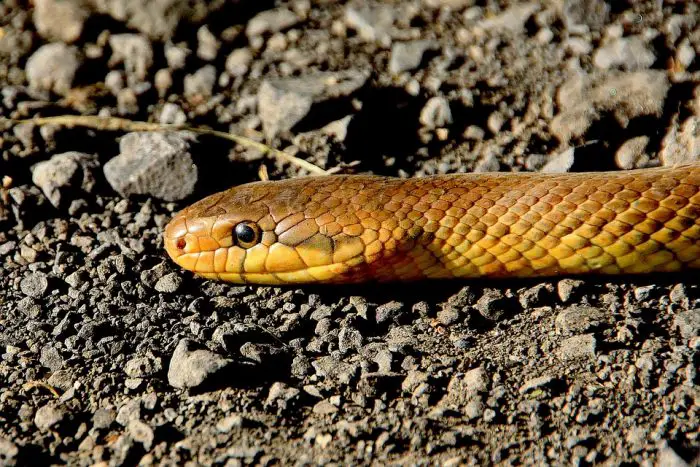 The Ortho B Gon when applied in and around your home works on the sense of smell of the snake and destroys their ability to smell their prey. This provokes the snakes to change their location to an environment with fresher air to help them detect the smell of their prey.
[youtube v="LAzTY03x4Lo"]
The Ortho B Gon is the most trusted product to eliminate and prevent snakes from wandering about your house premises. It is never going to fail you and prove to be the most trustworthy whenever needed.
Ortho Snake B Gon Snake Repellent Granules
The granules of Ortho snake B gon repellant is safe around people, pets and plants. Use the correct amount that is directed on the box in order to not overdo it. No safe products are 100% safe when we overdose all over apply them..
The granule formula does not create a foul odor that causes humans or domestic pets, to be disturbed.  These granules last for a long time and can resist sprinkles of rain.
Ortho Snake B Gon Snake Repellent Granules are easy to apply to keep snakes away from our yards and gardens. Due to the ease-of-use we recommend that you give it a shot.
Ortho Snake B Gon Ingredients
The active Ingredients in Ortho Snake B Gon are Cinnamon Oil, Geraniol, Castor Oil, Peppermint Oil, Clove Oil.
They are listed on the bottle along with a few other additives. 
Cinnamomum cassia oil
Geraniol
Ricinus oil (Castor oil)
Mentha citrata (mint) oil
Clove oil
Sawdust
Hydrolyzed Corn Starch
Water
Xanthan gum
Sodium sulfate
Corn starch is used to bind all the oils together in order to create firm granules. Xanthan gum also is used to stiffen, harden and broaden the mass of each granule.
Does Ortho Snake B Gon Really Work?
Yes. In our experience Ortho snake B Gon Repellent is an effective way to keep snakes away from our gardens and yards.
Our desire was to keep snakes away from our children and to prevent them from entering our home. We were able to apply Ortho snake B Gon Repellent granules without harming our plants or pets.
The idea behind the formula is to overwhelm a snake's sense of smell. Once this occurs the snake is no longer able to find the scent of any prey and will continue to move along to other locations.
This is why we believe it works and since we don't have any snakes around anymore, we're quite happy with the product. 
Is Ortho Snake B Gon Safe for Dogs?
Yes, Ortho Snake B Gon repellent is approved as a product that is safe around dogs. The claim is that the product is safe around people, pets and plants.
It's important to mention that the product should never be swallowed or inhaled.
If a dog gets near it and tries to smell, lick or inspect it closely, there could be mild to moderate eye irritation, itchiness of the skin or possible toxicity if the granules are ingested.
These cases are extremely rare, but in order to avoid harm, keep the repellent away from your dog's food and toys.
How To Use Ortho Snake B Gon
Before using any kind of product, always ensure to read the instruction manual and label directions thoroughly.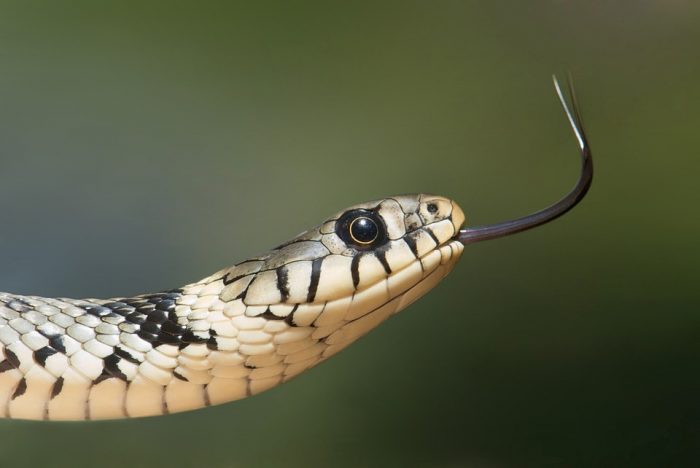 The Ortho Snake B Gon is extremely easy to use, you just need to open the lid and shake the bottle from side to side to dispense the granules from the container.
While applying the repellent apply liberally to the turf and soil around the flowers and plants. Although, ensure to apply the snake repellent in plants with no harvestable food produces or blossoms.
You can either apply them within a time gap of 30 days or apply whenever you detect a snake on your grounds.
Final Words
We hope this article and the product helps you to get rid of the snakes in your garden and further prevents their entry into your premises.
Thanks for visiting ThePestManagement.com for the best information to help you to make the pest control process easy, safe & affordable.